Connecticut Presenter Nexus
Welcome to the Connecticut Presenter Nexus where historical societies, museums, schools, churches and other organizations can connect with program presenters throughout the Connecticut area. Please use the navigation bar at the top of the page to brouse programs in each category. Each listing includes contact details for the presenter. Fees vary from presenter to presenter - please contact them directly with any questions. The Connecticut Presenter Nexus is a free service to everyone.
The Nexus has been renewed for another year! If you find this service helpful, please let us know!
We hope to be adding to the nexus frequently. If you are a presenter, please feel free to register your programs & services.
Thank you for visiting!Sound Rising: Long Island Sound at the Forefront of America's Struggle for Independence
Just In!
The Great escape of Edward Whalley & William Goffe - Smuggled through Connecticut[60 Minutes]

Christopher A. Pagliuco 26 Winthrop Hill Road, Ivoryton,CT 06442 (860) 581-8145 pagliucos@comcast.net http://chrispagliuco.wordpress.com/author/chrispagliuco/

The Great Escape traces the lives of two puritans, Edward Whalley and William Goffe, through their brilliant military careers on the battlefields of the English Civil Wars. After signing the death warrant for King Charles I and executing him, Whalley and Goffe served under Oliver Cromwell ruling England with Puritan zeal. Upon Cromwell's death, and the resulting restoration of Charles II, Whalley and Goffe found themselves to be wanted fugitives, subject to the death penalty. They fled to Connecticut where colonial leaders smuggled the men from hiding place to hiding place in an effort to stay a step ahead of royal searches.A compelling story in its own right, The Great Escape is also a fascinating means of understanding the founding of Connecticut. The lives of Edward Whalley and William Goffe closely intertwine with the Great Migration to New England, the merging of New Haven and Connecticut colonies, the conquest of New York, and the fighting during King Phillip's War.Audiences will be amused, intrigued, and enlightened by this story that is a must for history lovers across Connecticut.

I am currently scheduling book signings and related events and would welcome the opportunity to meet your members. If you are interested in creating a program please contact me.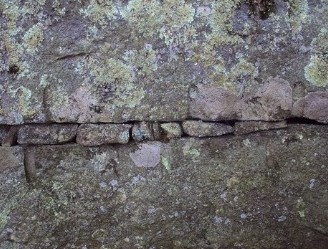 Preserving our Stone Treasures[Adaptable Length]Equipment Req: Screen
Michael A. Angelicola 365 Harwington Avenue Plymouth, Connecticut 06782 (203) 565-6011 angelicolamasonry@yahoo.com www.preservingourstonetreasures.com
Preserving our Stone Treasures is a powerpoint presentation about the history of New England stone Walls and the need for preservation.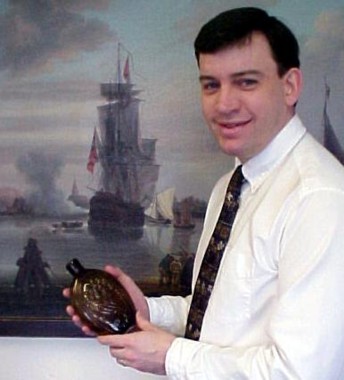 Antique Appraisals & Lectures [Adaptable Length]
Paul Royka P.O. Box 179 Lunenburg, MA 01462 paulroyka@roykas.com www.roykas.com
Paul Royka is a nationally known fine art, antiques & collectibles expertwith over 30 years experience. He is the author of several books andappeared on several TV programs including FoxNews and Antiques Roadshow.He has set many world record prices at auction. Paul has been an activemember of the New England Museum association. Program offerings include: Appraisal Day (normally 10-2pm / 4 hours and allows time for extended period)Appraisal / Lecture Night; Behind the Scenes of the Art & Antiques Trade: Great Finds, Fraud,Scandals and Valuing your items; New England Art Pottery: The Beginning of the Modern Movement in America; Appraising Your Fine Art.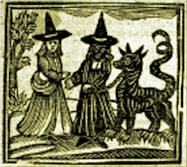 Panic in Connecticut; Accused Witches Have their Say [40 Minutes]Equipment Req: A period bench or 2 Period Chairs if possible.
Virginia Wolf 22 Carriage Drive, Farmington,CT 06032 (860) 550-0936 vwolfvoa@gmail.com www.herstorytheater.com
Actress Virginia Wolf presents a one-woman performance that brings to life the experiences of five Connecticut women accused of witchcraft during the 17th century. Gripping, tragic and, finally triumphant, Ms. Wolf's performance lends humanity to a mysterious and perplexing time in Connecticut's history. Presentation is based on available primary resources. Show runs 40 minutes, but plan for 60 minutes to include discussion.
My show is designed to be portable; I have all costumes and props, but ask only for a couple of chairs or benches...period is nice, but not necessary. A raised stage is also nice, but not necessary.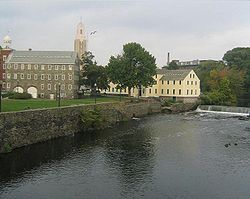 The Impact of Samuel Slater's Textile Revolution on Northeastern Connecticut. [60 Minutes]Equipment Req: LCD Projector & Screen
Joseph Lamartino P.O. Box 478 Thompson, CT 06277 (860) 923-3776 jiamartino@baypath.edu
The story of the textile revolution in NE CT, beginning with Samuel Slater's entry into the market, and describing the impact of the embargo during the War of 1812.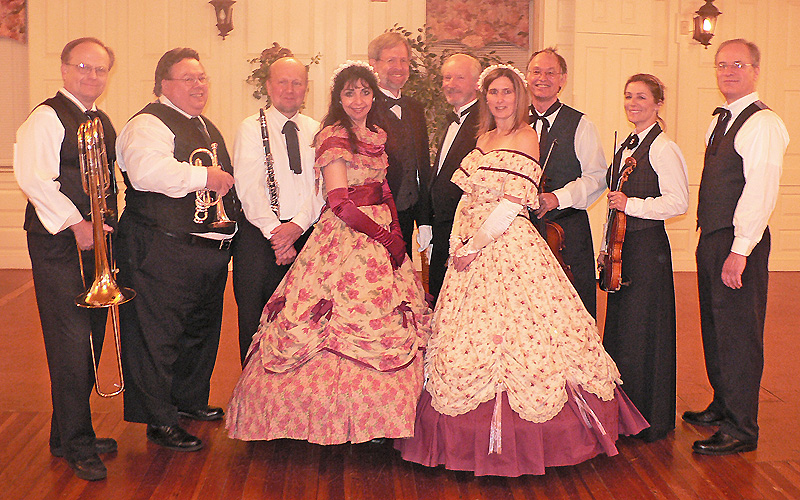 The Civil War Ball Room [Adaptable Length]Equipment Req:
The Victorian Quadrille Orchestra & Small Planet Dancers. David W. Neill, Contact 224 Longhill Street, Springfield, MA 01108 (413) 732-4137 tbn8@aol.com http://www.premierentertains.com/Vic%20Main%20Page.html
The Victorian Quadrille Orchestra and the Small Planet Dancers present a History program: The Civil War Ball Room.
The program can be tailored to your needs from a half hour to 2 hours, the group presents a performance of 19th century music, dance and the history of the Civil War Ballroom. At the end of the program the dance troupe can teach one of the dances to the audience.
Other presentations: Louise Armstrong, History of Brass Instruments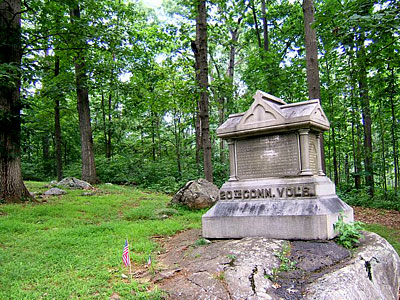 Somewhere North of Washington: Connecticut at Gettysburg [90+/45 Minutes]
Richard & Rebecca Donohue 113b Oswegatchie Hills Road, Niantic, CT 06357 (860) 691-3332 necc2000@aol.com
Six units of Connecticut men fought at Gettyburg during the three day battle in 1863. Using images from the National Park at Gettysburg, this program describes the involvement and meneuvers of these 1300 Nutmeggers.
There are two versions of this program available: The Longer version explains the events of July 1 -3 in Gettysburg and the role which Connecticut men played in them. The shorter version, appropriate for school groups, focuses on the highlights of Connecticut's three day involvement in the Battle.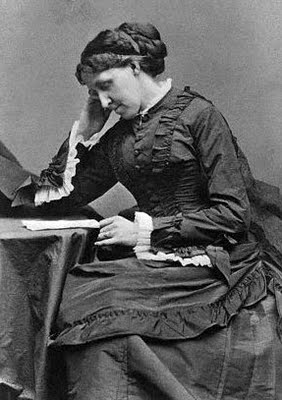 So Practiced as to be Natural: Louisa May Alcott's Literary Condemnation of the 19th Century Costumed Charade [40 Minutes]Equipment Req: Screen Rebecca Bayreuther Donohue 113b Oswegatchie Hills Road Niantic, CT 0357 (860) 691-3332 rb.donohue@mysticseaport.org
Other presentations: ""I tie my Hat – I crease my Shawl - ": the Lyrical Clothing of Emily Dickinson; Victorian Flower-Arranging; "They calls it a Home, I calls it a Prison": Maritime Boardinghouses in the Nineteenth Century; "They don't live; they board": The Tenants of Greenmanville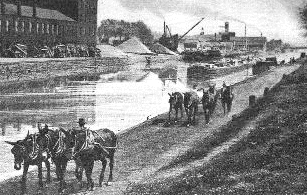 The Blackstone Canal: Artery to the Heart of the Commonwealth [60 Minutes]
Thomas D. Kelleher 610 Cronin Road, West Brookfield, MA 01585 (413) 436-5029 tkelleher@osv.org
A transportation revolution transformed the landscape, the economy and everyday lives for early 19th century New Englanders. Following on the success of New York's Erie Canal, a canal was optimistically built from Providence, Rhode Island to Worcester, Massachusetts. Although it failed after twenty years, it permanently changed the area. This talk tells that story.
Other presentations: "Phrenology" "Early Baseball" " Blackstone Canal" "Dentistry" sundry craft demonstrations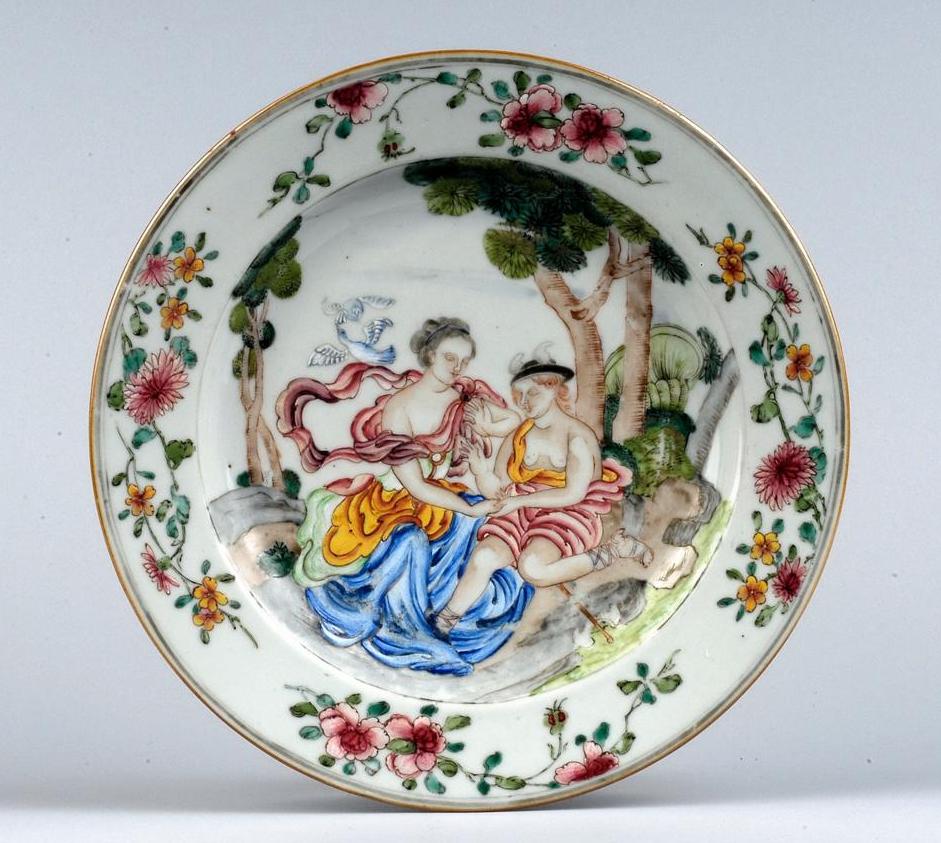 Chinese Export Porcelain: An Introduction [60 Minutes]Equipment Req: LCD Projector & Screen
Michael S. Day 13 Laurel Lane, Barkhamsted, CT 06063 (860) 379-1053 jday02@snet.net www.clippership-publications.com

Pieces of Chinese Export Porcelain are displayed in the finest museums and in the restored homes of the leaders of early America. These delicate cups and dishes represent a small but important part of the trade that existed between China and the United States during the eighteen and nineteenth centuries. Yet pieces of Chinese Export Porcelain can still be found at modest prices in antique shops today. Here is the story of how the China trade originated and how fine porcelain became a part of our cultural heritage. The process of making porcelain is explained and the long journey from central China to the dining rooms of New England is traced. Discussed also are the basic designs and how they evolved over the years.
This is a non-technical introduction that covers all the basics of porcelain production, decoration, shipping and use. It would be of interest to anyone who appreciates history or antiques.

Other presentations: "The One Room School House: What was it Like?" "19th Century Children's Games" " Herb Gardens"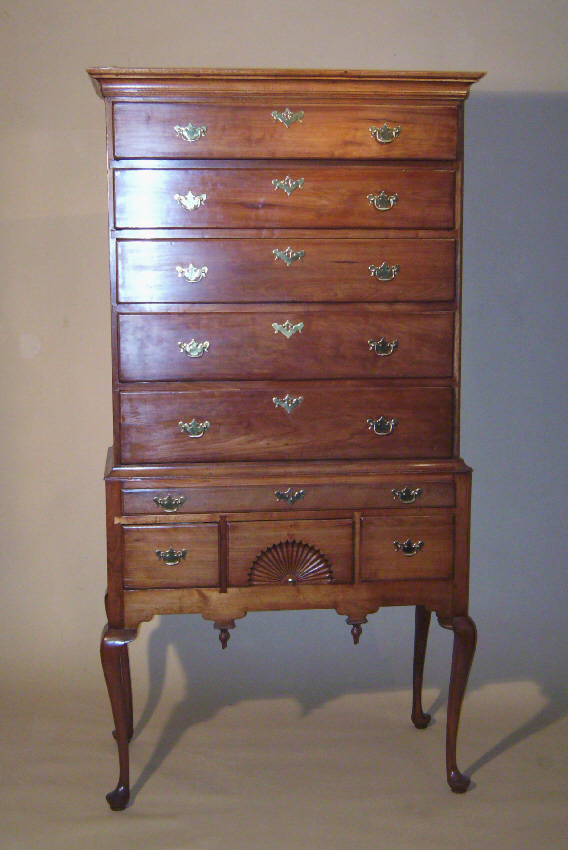 Connecticut Furniture & the Origins of American Art [60 Minutes]
William Hosley 30 Old Abbe Rd, Enfield, CT 06082 (860) 379-1053 wnhosley@snet.net www.billhosley.com
This program explores Connecticut furniture from the earliest work of joiners like Aaron Cooke of Windsor and Henry Treat of Wethersfield, the rise of the baroque forms of Timothy Loomis and William Manley, the flowering of Connecticut expression in the hands of Eliphalet Chapin, Samuel Loomis and Elijah Booth, to the innovators of the industrial age like Lemuel Hitchcock and Ebenezer Tracy the story of Connecticut furniture is a chain of innovation and local expression.
Other presentations: For a list, please write to wnhosley@snet.net